Similar to PLA 3D printer filament, luminous PLA(MPLA) filament is modified to make polylactic acid to obtain excellent glowing effect,great mechanical properties and good toughness. Moreover, the luminous PLA has a high brightness pearl luster,more brighter than normal PLA filament. The luminous PLA printing material can be commonly used in large surface models and practical products like furniture parts,decorates,outdoor decoration and other fields. Luminous PLA filament is the latest modified material made by Flythinking, which got a huge eye-catching in the market. When you use this pearlescent PLA filament as material to make your 3D printing product, this 3D printing material can make your product more sparkle and more remarkable.
LoGen3D MPLA 3D pinrter filament:
(1) Raw materials: imported from the best American material.
(2) Great bio-compatibility, excellent transparency and environment friendly
(3) High gloss,catch your eyes
(4) Low shrinkage, good round shape
(5) Accurate diameter (±0.02mm)
(6) No bubble
(7) Stable melting point
(8) No block the nozzle,print out smoothly
(9) Various colors can be choose or even customize color for you
(10) To be applied to a variety of 3D printer, Makerbot, UP plus, Mendel, Prusa, series, etc.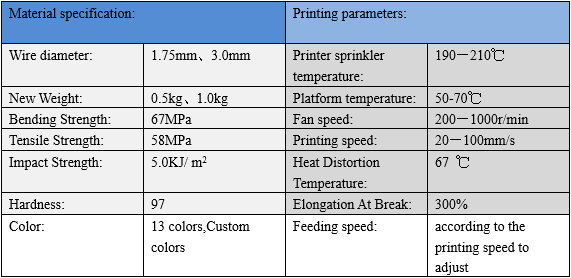 1.Produce process
I . Before produce extruding filament ,we will dry the 3D printer filament for a enough time (3-5 hours).
II. Mix with colors masterbatch or colors powder, all which .certified with ROHS.
III.Adjust temperature and dragging rate , make filament diameter range at 1.6-1.8mm/2.8-3.0mm, roundness +/-0.05mm, each spool net weight 1kg+/-0.02kg
IV we put all filament spool in shelf, different kind in different shelf, all categories arranged orderly.
2.Productiong quality control
I. we have diameter laser detect kits to control extruding rate on line, when diameter smaller or higher than accept range, the laser detect kits will adjust the extruding rate higher or smaller to make diameter range at acceptable.
II.keep each record filament samples sent to customers, build a tracking able document.
III.when the filament put on shelf longer than half a year, we will dry the filament again.
3.About waste & recycle
Much time you will find some black filament is too brittle, that added and mixed with some recycle and scrap after produced.
We haven't produced with scrap outlet, rework&recycle material, or dispose, but for quality assurance purpose.
4.packaging
We put each filament /spool on seal PE bag with desiccant , then smaller carton, then out big box
We also have vacuum heated bag to replace of PE bag, make better avoid moisture.
5.research and developing
we have engineers that specialty in color formulation ,plastic modification, packaging, quality control ,producing control, we can do according to your requirements .
We have colors:
Natural,white,black,red,blue,orange,purple,green,yellow,grey,brown,silever,gold,pink,transparent blue,transparent red,transparent yellow,transparent green,transparent orange,transparent,sky blue, dark blue ,florescent green,violet,skin,lime,dusk,kiwi,glow in dark (green),glow in dark(yellow),glow in dark(blue)etc